Contemporary Wall Art Created with LED Tape Light
Legend Lighting recently had the opportunity to work with one of our custom home builders, VII Custom Homes, on a new project, which was featured the Home of Distinction home tour.  The builder had seen a photo on Houzz and wanted to re-create this idea in their home.
The inspiration came from the Houzz profile of Wright Street Design Group from Ann Arbor, Michigan. The photo below has been added to 15,560 idea books.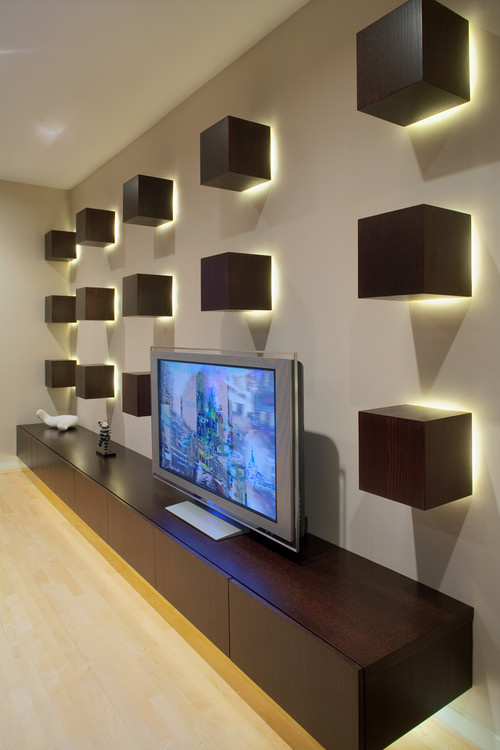 A second view has been added to 5,824 idea books.
Our customer wanted to use LED lighting, so Cathy Shockey, with Legend Lighting, and Cory Turney, with Diode LED,  worked together on the design using LED tape light. Ultra Blaze tape light in 3000K from Diode LED was chosen and applied to the inside edge of the open back of the cubes.  They were then attached to brackets on the wall, leaving about an inch of space from the wall, which makes them appear to float.  The photo below shows a diagram of the design.
Below is a photo of the finished project. VII Custom Homes was very happy with the results, and this unique application was a popular feature on the home tour. This is a great example of how Houzz influences design. A project from Ann Arbor, Michigan inspired a design in Austin, Texas.
The design possibilities with LED tape light, both indoors and outdoors are limitless. If you would like to get creative with this flexible and versatile product, we would love to help!
Click here for more info and to see more beautiful photos of this home.
Follow Legend Lighting on Houzz for more inspiring ideas!
Tags: Cube art wall, Diode LED, LED Austin, LED Tape Light, LED wall art, LED wall lights, Legend Lighting